Common Ground
date: Online
time: Waiting list now open
price:
$

1,299.00
Jo is such a wonderful teacher and communicator. I found the skills she taught in Common Ground to be nothing short of life changing.
~ Emily Ellis, Photographer
Read more testimonials here.
Common Ground
Learn the art of a good argument.
Saturday 16th – Sunday 17th May 2020 | Orange, NSW | $1299
The next Common Ground workshop will be hosted online in early 2021. Join the waitlist to be notified when tickets are open. I'd love to have you join me!
Improve how you communicate with Common Ground, a program for personal and work relationships.
What happens when we fight? Some people say things they don't entirely mean, creating a rift that can make further interactions disconnected and difficult. Others retreat, later wishing they had spoken up more, left with lingering resentment, regret, and a lost opportunity to have their say. But what if each scenario was entirely unnecessary? If disagreement is a normal part of life, how can we make sure it's productive, rather than destructive?
The Common Ground program teaches you how to argue well – not fight badly: to hear others (even in disagreement), to clearly communicate what you want (with courage), and to find common ground with anyone on any issue. Based on the teachings of Marshall Rosenberg, and the ancient art of persuasion, Common Ground will help you evolve your communication skills in all facets of life, with time-tested techniques you can use straight away.
If you enjoy the clarity, calm and grounding of holistic practices like yoga, this teaching takes it to the next level by helping to shape how you understand your most important relationships and interact with others.
Cost: $1299
Location: Orange, NSW
Venue: The Building 86 (86 Peisley St, Orange)
Commitment: 2-day workshop and 12-month group practice membership (available in person or remotely)
Format: The bulk of the course is taught over an inspiring and jam packed two-days. The program is structured with monthly follow ups, which allows you to practice everything you have learned and truly make the Common Ground teachings a way of life. If you are unable to attend the follow ups in person, you will be completely supported from afar, with practice notes and tips, as well as access to your teacher for the 12-month duration. The practice groups will take place in the evenings on the second Wednesday of every month.
Inclusions: Pre-reading resources, follow up resources, 2-day immersive, and 12 x monthly communication practice groups (group practice class notes and guidance available for those based remotely).
Holistic skills you will gain: Communication, empathy, calm, charm, eloquence, resilience, self-awareness, diplomacy, leadership and supportiveness.
Your teacher
This course is facilitated by me, Johanna Scott. Good communication has been the backbone of my career for over 12 years now – from early days cutting my teeth in public relations and persuasion, to evolving with social media and digital marketing breakthroughs, to becoming a brand and marketing consultant and owning my own business – I even have two university degrees in the topic! But what has stood out to all my clients and contacts over the years is my ability to write, speak and communicate on behalf of their brands with honesty, authenticity, character and a flair for "getting the voice right."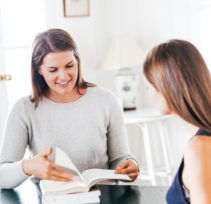 In 2013 I uncovered a revolutionary way of communicating – one that completed the communication puzzle for me. It has had significant impact on all my relationships – from my most personal and intimate to my most professional.
Based on the world renowned and highly regarded work of psychologist Marshall Rosenberg, this technique values resolution over defeat, revealing a way of connecting with others and self without using any of the following: judging, grovelling, bullying, submitting, blaming, discriminating, speaking without listening, criticising, reacting, using political rhetoric, or being defensive.
If you want to argue well; express yourself clearly, hear others authentically and find common ground with anyone, I'd love to share this knowledge with you. I conduct the workshop in an accessible way that encourages ongoing inquiry – with an emphasis on uncovering your own voice, making this a completely natural and honest way of communicating. You … but better!
Common Ground workshop format
The five-pillars of Common Ground
> Empathy: The ability to listen and hear others authentically (not just what they say, but what they mean)
> Authenticity: The ability to uncover and better understand your own motivations and needs.
> Communication: The ability to express yourself clearly and with courage.
> Freedom: The ability to see choice in every situation.
> Persuasion: The ability to put your argument in a way that will be well timed and better received.
The focus of this program is on learning to understand your own motivations and actions to improve how you conduct yourself in conflict or in other difficult situations. From a place of honest self-reflection and connection, you will then be better placed to understand what might be at play for the other person. Rather than responding to triggers, bad habits or tired storytelling, you will become curious about what is truly happening and better able to respond with empathy, honesty, clarity and power.
I hope you will join me in the class. It would be an honour to share these skills with you!
The Not-So-Fine Print
The Make Do Co. Mastery Program is a non-refundable investment. I trust you to make a wise and thoughtful decision. Also, please note that travel, accommodation and food is not included in the purchase price (although I will be conjuring up surprise snacks and tea!).
If you have remaining questions around the value of this course or who it's best suited to, read the FAQs section.
Also …
I believe that business is not only about selling, but standing for something, so 10% of profits from this workshop will be donated to Orange Women and Children's Domestic Violence Crisis Centre (learn more about their important work here).
If you're a business or company that believes in the advantage of holistic skills in the workplace (like self-awareness, empathy, calm, resilience and eloquence) then help spread the love! Contact me about sponsoring a "chair" for someone who would otherwise not be able to come to this workshop (and we can co-promote the opportunity you have created). The more we invest in each other, the more our collective consciousness grows.
The time is now
If the benefits of this workshop sound appealing to you – say yes! Click the link below to get started, and I look forward to having you in the class. I am so committed to this work, and confident in the changes you will see.
The next Common Ground workshop will be hosted online in early 2021. Join the waitlist to be notified when tickets are open. I'd love to have you join me!
Out of stock