Mastery Meditation
date: Online
time: Waiting list now open
price:
$

1,299.00
I found the course captivating, mind expanding yet a down to earth guide for anyone looking to develop a quiet strength in their lives. A wonderful experience.
~ Sarah MacInnes, Director, Seed Paediatric Services
Read more testimonials here.
Mastery Meditation
Develop daily meditation practice for greater power in body, mind and spirit.
Saturday 25th – Sunday 26th July 2020 | Orange, NSW | $1299
The next Mastery workshop will be hosted online in early 2021. Join the waitlist to be notified when tickets are open. I'd love to have you join me!
For anyone who wants to be better at what they do, the Mastery program instils powerful habits and daily meditation practices to help you improve your performance in your career and/or business and life.
Based on ancient yogic wisdom and holistic philosophies, but delivered in a completely down-to-earth, accessible and achievable package, this course will empower you to become the most vibrant version of yourself.
What are you yearning to achieve? Mastery will catapult you onto the path to achieving your true potential. Fine-tune your craft, improve your personal wellbeing, be more productive and reach your greater potential and power. And because this teaching embraces an holistic definition of success, the content covers not just your goals, but also your mental wellbeing, health and genuine happiness.
Cost: $1299
Location: Orange, NSW
Venue: Orange Botanic Gardens (Clover Hill Function Centre)
Commitment: 2-day workshop and 12-month group practice membership (available in person or remotely)
Format: The bulk of the course is taught over an inspiring and jam packed two-days. The program is structured with monthly follow ups, which allows you to practice everything you have learned and truly make Mastery a way of life. If you are unable to attend the follow ups in person, you will be completely supported from afar, with practice notes and tips, as well as access to your teacher for the 12-month duration. The practice groups will take place in the evenings on the second Wednesday of every month.
Inclusions: Pre-reading resources, follow up resources, 2-day immersive, and 12 x monthly practice groups including meditation, restorative yoga and Mastery check-ins (group practice class notes and guidance available for those based remotely).
Holistic skills you will gain: Calm, self-awareness, resilience, adaptability, effectiveness, purpose and playfulness.
Your meditation teacher
This course is facilitated by me, Johanna Scott. I am fascinated by why and how we do good work, constantly seeking the answers to these questions:
> What makes us fulfilled and in-flow?
> What makes us most productive?
> What stands in the way?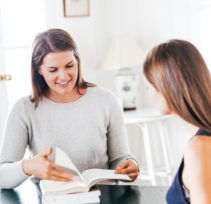 As a student of this inquiry for over six years now, there have been many game-changing moments for me – the clarity created by tuning into my body and breath; the character and quality of work created by finding my purpose; the grace, ease and joy created by conscious habit; and the inspiration and groundswell of support that came my way, simply by learning to be my most authentic self.
The utter power of the systems I teach belies their simplicity (and vice-versa!) – the good news is that anyone can experience these results (sometimes immediately), if only they are willing to commit to regular practice and self-inquiry. I am a certified yoga and meditation teacher, with a passion for continuing my own education. My mission is to create a friendly, supportive and inspiring environment to impart this knowledge, so you can gain the skills, confidence and community to do work that matters (in whatever form that takes for you) and live in a way that truly fires and lights you up.
Workshop format
The six-pillars of Mastery
> Resilience: An ability to cope with the demands of modern life.
> Health: An ability to tune into your body and receive vibrant health through yoga practices.
> Mind: An ability to create stillness in your mind and discover vastness in your life through meditation.
> Spirit: An ability to relax into life, harness your creativity, live joyfully and act on inspiration (as opposed to operating from a place of obligation or resentment).
> Growth: An ability to learn, be stimulated and inspired by others.
> Relationships: An appreciation for community and the skills to connect to yours.
The focus of this program is on creating good routines and habits (including meditation and breath work) to improve your resilience, reduce stress and help you achieve what you want in life, day by day. Please note that included among these skills is the ability to be satisfied with where you're at (we're seeking progress and contentment, not perfection).
Why something as boring as routines? The power of daily routines outshines anything willpower can achieve and I love the simplicity and ease of this! Routines and good habits make including the good things in life effortless, which then frees up that energy for other things.
Unlike most western education, this teaching will be a "whole body" experience, helping you quieten the mind by getting to know your breath and body again. Without a doubt, this skill is life changing, and it's one you will carry with you for life.
I hope you will join me in the class. It would be an honour to share these skills with you!
The Not-So-Fine Print
The Make Do Co. Mastery Program is a non-refundable investment. I trust you to make a wise and thoughtful decision. Also, please note that travel, accommodation and food is not included in the purchase price (although I will be conjuring up surprise snacks and tea!).
If you have remaining questions around the value of this course or who it's best suited to, read the FAQs section.
Also …
I believe that business is not only about selling, but standing for something, so 10% of profits from this workshop will be donated to Orange Women and Children's Domestic Violence Crisis Centre (learn more about their important work here).
If you're a business or company that believes in the advantage of holistic skills in the workplace (like self-awareness, empathy, calm, resilience and eloquence) then help spread the love! Contact me about sponsoring a "chair" for someone who would otherwise not be able to come to this workshop (and we can co-promote the opportunity you have created). The more we invest in each other, the more our collective consciousness grows.
The time is now
If the benefits of this workshop sound appealing to you – say yes! Click the link below to get started, and I look forward to having you in the class. I am so committed to this work, and confident in the changes you will see.
The next Mastery workshop will be hosted online in early 2021. Join the waitlist to be notified when tickets are open. I'd love to have you join me!
Out of stock