Small Business Breakthrough
Small Business Breakthrough
date: Online
time: Waiting list now open
price:
$

2,299.00
I recently attended Jo's Small Business Breakthrough workshop and could not recommend it highly enough! I left feeling so inspired armed with a list of great ideas and achievable steps to set my business on the right track. It was such a great mix of helpful business tips for advancing your small business and self care practices to make work a happy and enjoyable practice. I loved the references to permaculture and how they can relate to small business - what a wonderful way to think about business and life in general!
~ Claire Fox, Owner & Graphic Designer at Roadtrip Creative
Read more testimonials here.
Small Business Breakthrough
Market, sell and grow (with soul).
Friday 4th – Sunday 6th September 2020 | Orange, NSW | $2299
The next Small Business Breakthrough workshop will be hosted online in early 2021. Join the waitlist to be notified when tickets are open. I'd love to have you join me!
What motivates people to start their own business?
The income potential is part of it, yes. As is the ability to enjoy freedom and flexibility and work with people you like – the perks of being your own boss. Many people see a faster way to achieve positive impact, making the most of skills that may have been fostered (or wasted!) in other roles. And for most there's a deep desire to make, to create something that is a unique reflection of their values, passions and personality – something in which they can truly take pride.
So what stands in the way of success for a business like this?
Sometimes it's the skills to market the business or the ability to communicate what it actually does (aka why someone should buy your product or service). Sometimes there's a lack of clarity around the goals or structure of the business model. In the early stages, there might be a lack of purpose or failure to prioritise. In many circumstances there is a fear of selling – and most people can relate to feeling overwhelmed in getting through it all!
Small Business Breakthrough will teach you how to market, sell and grow your business – in a way that honours your soul. This teaching is for people who want to create something extraordinary in their work and are seeking the frameworks, knowledge, skills and community to make it happen. The course is designed for people at every stage in their business journey, wanting to learn an authentic, effective and pragmatic way to reach their customers and make their business thrive.
And because this teaching embraces an holistic definition of success, the content covers not just your business and career, but also your mental wellbeing, health and genuine happiness.
Cost: $2299
Location: Orange, NSW
Commitment: 3-day workshop (Friday evening, Saturday & Sunday), 3 x coaching sessions
Format: The bulk of the course is taught over an inspiring and jam packed three-days. The program is structured with smart and effective strategies you can immediately apply to your business with three one-on-one coaching sessions to follow up and help you implement what you have learned. You then have the opportunity to receive three rounds of strategic feedback on your work after that.
Inclusions: Pre-reading resources, follow up resources, 3-day immersive workshop, three one-on-one coaching sessions and three rounds of strategic feedback based on your unique situation, with the chief aim of generating tangible and exciting progress.
Holistic skills: Entrepreneurship, purpose, creativity, confidence, self-awareness, decisiveness, resilience, leadership, adaptability, communication, effectiveness and innovation.
Your teacher
The course is run by me, Johanna Scott (with a guest teaching module from Sophie Hansen – see below). I have worked in the branding / marketing space for over 12 years now. I find the strategic process and creativity of the work immensely satisfying and the most frequent feedback I get from clients is that my strength lies in "getting the voice right" – that is, in presenting their business in an honest and authentic way to the people who are seeking to connect to that business.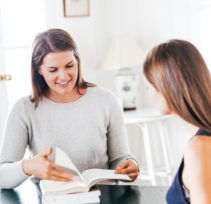 In addition to the intuitive nature of branding (which can be learned – I promise!), there are other simple, tactical steps that can rev up a brand's success, if you know what to look for. All of which will be covered in the course.
Finally, there is much wisdom in the ancient practices of yoga and meditation around dealing with resistance created by the mind – often the biggest barrier to people moving forward in their business, career and life. I offer these teachings in an accessible way, to help you identify your self-limiting beliefs and tactics to move forward with more grace and ease.
I can say without a doubt – that if you have read the description above and it makes your heart sing, then you have something special to say. It would be my honour to help you find your voice, share your business creatively and get it out to the people who need it most.
Workshop format
The eight-pillars of Small Business Breakthrough
> Boundaries: Learn to see time and financial limitations as assets in getting more done, and failure as part of the process.
> Energy: Discover strategies for being most effective in working within the boundaries of your life (other work, illness or children for instance) and gain an ability to flow with the energy of life.
> Goal-based: Get clear on your priorities in order to perform at your highest level.
> Authenticity: Learn to leverage your uniqueness as a way to create genuine connections to your customer. Understand that these kinds of connections outshine anything money can buy.
> Confidence: Gain an awareness and appreciation for your strengths and grow from there.
> Storytelling: Reach the right people in a way that is creative, romantic and fun.
> Branding: Utilise design, copywriting and content to create a recognisable and loveable brand. It's a fun, creative and fulfilling process.
> Sales: Learn the roadmap to make selling – not only effective – but totally comfortable and graceful.
The focus of this program is on helping you create the business of your dreams – not necessarily the next Amazon or Boost Juice – but a viable, successful small business that not only earns you a decent income, but helps you live in the way that matters to you.
Starting and running a business is not the route for everyone. It's hard work, there are many moments of self-doubt and much of the territory is new and unknown. This is not intended to scare anyone off, but simply to say you know if this is something you want to get into. You just know. This course is created for the people who know they want to continue on the entrepreneurial journey, but potentially have not found marketing advice that resonates with their own values and the mission of their business.
I have a strong commercial background, and burning enthusiasm for purpose-led business. If this intersection sounds like something you could benefit from, please join me in the course. It would be an honour to share my skills with you!
The Not-So-Fine Print
The Make Do Co. Mastery Program is a non-refundable investment. I trust you to make a wise and thoughtful decision. Also, please note that travel, accommodation and food is not included in the purchase price (although I will be conjuring up surprise snacks and tea!).
If you have remaining questions around the value of this course or who it's best suited to, read the FAQs section.
Also …
I believe that business is not only about selling, but standing for something, so 10% of profits from this workshop will be donated to Orange Women and Children's Domestic Violence Crisis Centre (learn more about their important work here).
If you're a business or company that believes in the advantage of holistic skills in the workplace (like self-awareness, empathy, calm, resilience and eloquence) then help spread the love! Contact me about sponsoring a "chair" for someone who would otherwise not be able to come to this workshop (and we can co-promote the opportunity you have created). The more we invest in each other, the more our collective consciousness grows.
The time is now
If the benefits of this workshop sound appealing to you – say yes! Click the link below to get started, and I look forward to having you in the class. I am so committed to this work, and confident in the changes you will see.
The next Small Business Breakthrough workshop will be hosted online in early 2021. Join the waitlist to be notified when tickets are open. I'd love to have you join me!
Out of stock